To protect pivacy, our experts
strongly
recommend 
IPVanish VPN
!
Now,  it's also time for the Chromecast to be retired, at least in its current form. If Google wants me take its TV offerings seriously, then it needs to offer a full-fledged Android TV dongle as its core product. I'm not saying Chromecast should go away completely, but it needs to make way for Android TV's superior flexibility.
 The original Chromecast, announced way back in 2013, was genius. Google was far from the first to figure out how to stream video from one device to another – Chromecast launched when AirPlay used to dominate the market – but it was the first to truly make it accessible.
The Chromecast was cheap, at just $35. It was surprisingly reliable for a first-gen product. It was easy to use, if you were mildly tech saavy. But for all of Google's success with the Chromecast, it's simplicity is holding back the user experience, and it comes down to one simple reason: there's no remote.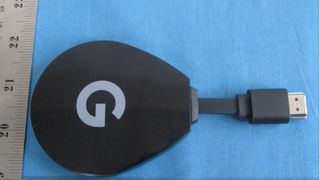 Google could be releasing a 4K Android TV dongle at its upcoming I/O conference, now less than a month away.
An application filed with the US Federal Communications commission (FCC) has revealed that a 4K Android TV dongle is on the way. The only question is whether it's an official Google product.
The application (spotted by Ausdroid) was filed by a company called Shenzhen SEI robotics, and shows both a teardrop-shaped dongle emblazoned with Google's distinctive 'G' logo, and a remote with a dedicated Google Assistant button. Also listed are the full specs for the device.
Invasion of the Androids
If it is an official product it joins Google's Chromecast devices, which can already stream Full HD video, 4K, and audio to speakers from a mobile device. Android TV is a far more robust proposition, as an actual TV operating system, akin to Roku.
There are already numerous devices with Android TV on the market, including TVs like the Sony Bravia X900E, and the (excellent) Nvidia Shield. This would be the first time that Google's TV platform would be available on any TV with an HDMI port.
It uses HDMI 2.0, and has an Amilogic S905X processor with 2GB of RAM under the hood, and there's 8GB of eMMC storage for downloading apps and games. Android TV, as a counterpart to Android has access to the Play Store, so has a greater repository of games than any other TV OS.
Now, from looking at Shenzhen SEI robotics' client list (which includes Apogee, Acer and Harman International), there's no mention of Google or its parent company Alphabet. That's not to say that Google isn't a client, but it casts doubt on whether this is an official Google product.
Either way, we've got less than a month to wait now to find out. We'll of course keep you updated with our extensive coverage of Google I/O.
Android TV really needs a Google-blessed device right now. Google's last (and so far only) Android TV device has been the under-powered Nexus Player. While it had a legendary upgrade streak from Android 5.0 all the way up to Android 8.0, Google recently dropped major update support for the device. Google devices are the only Android products that get fast, reliable updates, and they have unlockable bootloaders, making them excellent developer devices. With the existing device lineup, there is no way to buy an Android TV device that will get Android P in a timely manner.
As a pro team in the industry, we know that there are too many TV Box models nowadays, and people always get confused when choosing a model. Which TV Box or network set-top box is suitable for you? Our experts have done much research on the OTT market. Here are the best TV Boxes in marketing performance in 2018.
Check the Top-5 Best Sellers in 30 Days (More People's Choices!)
NO.1

Mecool M8S PRO L 4K TV Box Amlogic S912 Bluetooth 4.1 + HS - VOICE REMOTE CONTROL ( 3GB RAM + 16GB ROM )
NO.2

A95X PLUS TV Box (Amlogic S905Y2, 4+32GB, USB 3.0)
NO.3

Beelink GT1 MINI TV Box with Voice Remote (4+64GB)
NO.4

Beelink GT1 Ultimate 3GB DDR4 + 32GB EMMC
NO.5
MECOOL KIII PRO Hybrid TV Box, S912, DVB S2 + T2, 3 + 16GB